This article is part of TPM Cafe, TPM's home for opinion and news analysis. It was originally published at The Conversation.
Declaring its community a "constitutional county" on May 23, 2023, the Board of County Commissioners in Ottawa County, Michigan, voted 9-1 not to enforce any law or rule that "restricts the rights of any law-abiding citizen affirmed by the United States Constitution."
Nor will the county provide aid or resources to any state or federal agency that county officials judge to be infringing on or restricting those rights.
Ottawa is not the first county in Michigan to declare itself a refuge from what its leaders say are anti- or unconstitutional actions undertaken by an overzealous state or federal authority.
Livingston County, also in Michigan, passed a similar resolution in April 2023.
It is not clear how many there are, exactly, but there are also self-designated constitutional counties in Virginia, Texas, Nevada and New York. As a scholar of constitutional theory, I believe more will follow, especially in the roughly 1,100 counties of the nation's 3,200 counties that have already declared themselves Second Amendment sanctuaries.
But where Second Amendment sanctuaries aim to create havens for gun rights allegedly under siege, the constitutional county movement has a broader agenda.
One of the drafters of the Ottawa Resolution, for example, explained, "As we wrote this resolution … we recognized the need to protect not only Second Amendment rights but all constitutional rights. … We wish to highlight freedoms and constitutional rights which have been violated over the past few years, as well as those currently at risk due to societal and political pressures." https://www.youtube.com/embed/y2mTYe3qdvA?wmode=transparent&start=0 A news report about the Ottawa County, Michigan, vote to declare itself a 'constitutional county.'
Why constitutional counties are unconstitutional
Although the two Michigan county resolutions are chiefly symbolic and do little more than encourage – rather than order – local law enforcement authorities and local officials to disregard federal laws they claim are unconstitutional, the dangers they pose to the U.S. constitutional system are substantial.
This way of thinking is profoundly mistaken and undermines Americans' collective commitment to constitutional democracy.
Declaring oneself a constitutional county undermines the authority of officials authorized to act under the Constitution. I believe it ultimately subverts the authority of the Constitution itself.
When these resolutions instruct county police not to enforce certain laws, such as red flag laws that allow the confiscation of firearms from certain people, they violate Article 6 of the U.S. Constitution. Article 6 declares that the Constitution itself and federal laws are "the supreme Law of the Land" and cannot be overruled or superseded by state laws or laws at lower levels of government.
So any county that claims to nullify federal laws it finds objectionable raises constitutional problems. So, too, do assertions of a right to obstruct federal law or to impede the exercise of federally guaranteed rights and liberties.
In both scenarios, local authorities claim they are under no constitutional obligation to enforce, or to help state or federal officials enforce, laws and regulations that are, in their view, plainly unconstitutional.
On the other hand, if the point is simply to refuse to assist federal officials in enforcing federal law, then that probably is not unconstitutional.
In Printz v. United States, the Supreme Court held in 1997 that federal officials cannot force state and local officials to enforce federal law.
Constitutional principles – or politics?
Among the constitutional liberties Ottawa County officials think are at risk is freedom of religion, which they say is threatened by state and federal diversity requirements in schools. Other rights they say are threatened include those granted by the Second Amendment and parental liberties; they also cite certain kinds of threats to individual liberty, such as COVID-19 mask requirements.
Notably absent were concerns about threats to reproductive autonomy, sexual and gender identities, or public safety endangered by firearms violence. Professions of constitutional fidelity by constitutional county advocates are more often about politics than real concern for the Constitution.
These declarations can be used – and I believe will be used – for pretty much any political agenda and to evade federal laws that some citizens find objectionable.
In doing so, they become little more than political excuses to end-run Article 6 of the Constitution whenever it suits.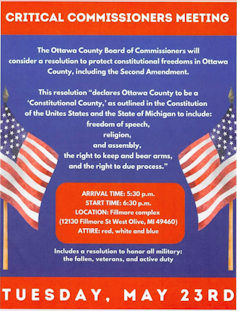 Taking the Constitution seriously
It is tempting to applaud any effort by citizens to take the Constitution seriously. As I wrote in my book "Peopling the Constitution," a healthy and vibrant constitutional democracy requires citizens who understand its promises and take some responsibility for making those promises a reality.
A resolution that simply makes a symbolic claim about federal law or about what the Constitution truly means, and does not order authorities to ignore or violate federal law, does not itself violate the Constitution. Such claims are a vital part of civic and constitutional debate in a healthy constitutional democracy.
But constitutional populism is a double-edged sword. The line between principled constitutional differences of opinion and partisan politics pretending to be a constitutional argument will not always be obvious or easy to discern.
When it substitutes partisanship for discernment, and assertion for argument, the constitutional counties movement undermines the very Constitution it purports to honor.
This story incorporates material from a previous story in The Conversation by the author. This article is republished from The Conversation under a Creative Commons license. Read the original article.