This article is part of TPM Cafe, TPM's home for opinion and news analysis. It was originally published at The Conversation.
On May 31, 2023, the Atlanta Police Department deployed a SWAT team to arrest Marlon Kautz, Adele MacLean and Savannah Patterson. These three people weren't fugitives from justice or drug kingpins, but rather volunteer board members of a local charity.
The Georgia Bureau of Investigation then charged these trustees of the Network for Strong Communities Inc. with charity fraud and money laundering.
Charges under Georgia's Racketeer Influenced and Corrupt Organizations (RICO) Act, a very expansive state version of federal RICO laws, may also be pending.
As a charity expert who researches nonprofit governance, I am struck by how unusual this scenario is.
This story strikes close to home for me as well. A friend of mine was arrested three months ago by the Atlanta police while attending a related music festival organized by the "Stop Cop City" protesters.
What's the charity?
Network for Strong Communities Inc. was founded in 2020. The Internal Revenue Service approved its application to operate as a public charity under federal law, and the Georgia secretary of state's office reports the organization is in good standing. An open records request I filed on June 5 with the Georgia secretary of state's office returned only routine charity documents.
Among its community engagement activities, the network operates the Atlanta Solidarity Fund, which has, since 2016, provided local activists with legal support, including bail bonds and attorney fees. Bail funds pool donated money to pay bail for people who can't afford it. They help low-income people who are facing legal charges to avoid the economic hardship of pretrial detention.
There's another charity with the same name based in Missouri, but the two organizations aren't connected.
What is the organization doing?
The Network for Strong Communities has provided legal assistance to dozens of people who have been arrested since 2022 during marches, demonstrations and other events opposing plans for the Atlanta Public Safety Training Center. That's a controversial facility under construction in Atlanta's largest urban forest.
A loose environmental and civil rights coalition calling itself Defend the Atlanta Forest has spearheaded the actions, which stem from fears of police militarization and environmental harm. But concerns about the facility are widespread among city residents.
Most of the environmental and civil rights activists objecting to the training center they call "Cop City" have used constitutionally protected tactics. But some have allegedly committed criminal acts of sabotage.
The protests have expanded and garnered international attention after Manuel Esteban Paez Terán, an environmental activist, was shot and killed by a Georgia State Patrol trooper in January 2023 during an encounter with law enforcement, as officers sought to clear protesters from the site.
Georgia has relied on its state domestic terrorism law and an unusual state-of-emergency declaration that Gov. Brian Kemp issued on Jan. 26, 2023, to jail the arrested activists and deny them bail for extended periods.
But the three Network for Strong Communities board members were released only two days after their arrest. The judge in charge of deciding on their bail expressed skepticism about the strength of the state's case. Their attorney has argued that the charges are unconstitutional.
The earlier arrests of more than 40 activists generated widespread concern among human rights experts who challenged the absence of evidence and observed that the activists were also involved in constitutionally protected activities.
The Atlanta City Council approved the remainder of US$90 million in funding for the training center on June 6, over the objections of more than 350 Atlanta residents who stood in line for over 14 hours to publicly comment.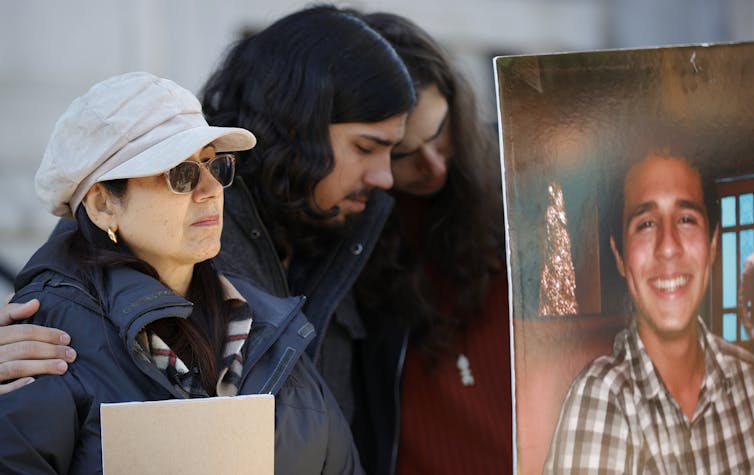 Are these charity arrests unusual?
Charity fraud charges can be lodged in any state when regulators suspect a charity is deliberately misleading the public about its activities. In this case, prosecutors claim the network's board members diverted charitable funds for personal use and misled donors about activities. The evidence relies mainly on financial and phone records obtained under a search warrant and receipts for such items as gas and yard signs obtained from board members' trash.
Georgia authorities have said the money laundering charge is based on evidence of a fund transfer to another organization, but they had not disclosed any details about this transaction by a week after the arrests. Network for Strong Communities makes grants to community groups, which is routine for charities involved in community organizing.
Normally, an employee tip or donor complaint initiates a charity fraud investigation. Prosecutors claim donor complaints here but did not disclose details at the bail hearing. It's also unusual for fraud charges to be applied without a full forensic investigation involving the Georgia secretary of state, who has this statutory authority.
Even Georgia Attorney General Christopher M. Carr, who is currently prosecuting this case, would normally direct inquiries by someone who suspects wrongdoing to the secretary of state's office.
I can't recall a SWAT team ever being involved in the prosecution of charity fraud charges. When I asked my fellow charity experts if they knew of a U.S. precedent, nobody did.
Charity leaders may legally reimburse themselves for work-related expenses as long as they keep receipts and records and there are appropriate checks and balances in place.
U.S. charities also legitimately make payments to other entities to carry out their mission. Any transfer of funds would need to be mission-related and reported in mandatory annual filings with the Internal Revenue Service.
If found guilty, the three Network for Strong Communities board members could have to pay fines of more than $500,000 and spend up to two decades in prison, according to the Atlanta Community Press Collective, a media outlet closely covering the story.
What could happen next?
The free speech rights guaranteed by the U.S. Constitution's First Amendment belong not just to individuals but also to institutions.
It is not a violation of anti-racketeering law to communicate among organizers to coordinate legitimate charitable work. And despite the astonishing claim by Georgia Deputy Attorney General John Fowler that these arrests could be justified because the board members "harbor extremist anti-government and anti-establishment views," a charity leader's political viewpoints are protected free speech, as are those of all Americans.
If past history is any guide, and unless the evidence becomes more compelling, I believe that these charges will be dropped. Calls to end such prosecutorial overreach will mount, and legal observers have already called for a federal investigation.
This article is republished from The Conversation under a Creative Commons license. Read the original article.